Profile
Guy Bélanger, CCMI, FRI, B.A.A.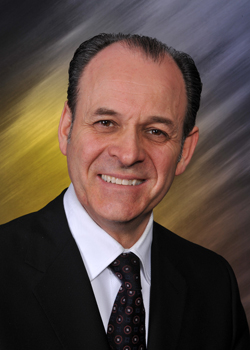 EDUCATION
University of Quebec in Montreal (UQAM)
Certificate in Business
Certificate in Marketing
Certificate in Real Estate
Bachelor of Business Administration
FRI designation (Fellow of the Real Estate Institute), Canada
CCIM designation (Certified Commercial Investment Member), Chicago-USA
RELATED TRAINING
RE/MAX International, Denver, Colorado, USA: Marketing and Sales of Franchises
GMREB and OACIQ: Several continuing education training activities
Various seminars on real estate related topics
AWARDS
Elected personality of year 2009, Real Estate Institute of Canada
Merit Award 2007, CCC - CREA
Guy Bélanger has been an agency director and certified real estate broker for the past 30 years. He works in residential and commercial fields for his firm Services Immobiliers Synergie (Synergie Real Estate Services) and his building management division Gestion Immobilière Synergie (Synergie Property Management). He is vice-president of the FRI, Quebec Chapter (Fellow of the Real Estate Institute) and he is a member of the Canadian Real Estate Association (CREA) Canadian Commercial Committee. He was the president (chair) of the Greater Montreal Real Estate Board's Commercial Division from fall 2002 up to July 2014. He was on the Board of the Canadian Commercial Council of Realtor (CCC) of the Canadian Real Estate Association (CREA) for the province of Quebec from 2003 to 2010 and 2012 -2014 and for 4 Atlantic provinces from 2003 to 2006, he was also Chair of the National Commercial Council (NCC) Education Task Force and he was a member of the Federal Affairs Committee of CREA (2013-2014).
EXPERTISE
His areas of expertise include the sale of residential revenues, commercials and industrials properties and businesses, leasing and building management, financing, implementation of recovery plans (problem-solving approach) as well as the sale and management of foreclosed properties owned by lending institutions. Also lands developments with builders and developers to hum he offer a turn key approach, layout conception, marketing tools (layout by architect designer, model, web site, virtual visits, etc.) and sale strategy, thanks to an innovative approach, a flexible organizational structure and his expertise in various fields of real estate, Mr. Bélanger has earned a solid reputation in the industry.
CAREER
During his professional career, Mr. Bélanger was vice-president of Inter-Tec Financial Group/National Relocation Services (Relonat), a subsidiary of Re/Max Quebec Inc. (master franchiser) and the National Bank of Canada. For more than 7 years, his duties included, among other things, managing an annual volume of over $300 million of mortgage loans referred to lending institutions, developing and structuring network systems between lending institutions and Re/Max Quebec as well as several independent real estate brokers, developing and supervising a team of more than 30 mortgage development managers, developing different provincial programs and promotions, acting as a resource person for problematic situations in mortgage brokerage, allocating and supervising the commercialization of properties foreclosed by the National Bank of Canada and negotiating provincial corporate agreements with lending institutions (head offices).
He also gave conferences all across the province of Quebec and Canada in front of groups of up to 1,000 people and he attended private meetings with provincial ministers who are members of the Conseil du Trésor, and with the Quebec premier as well as at the Federal Government level.
As coordinator and trainer, Mr. Bélanger implemented a continuing education program for the residential and commercial sectors for master franchiser Re/Max Quebec.
OTHER
Mr. Bélanger is passionate about his work and actively involved in his area of expertise. He regularly attends seminars, real estate forums, conferences and various meetings with industry stakeholders around the country.